Short haircuts are an easy way to maintain your hair and have a fuss-free life. Neither there's the burden of regular salon visits nor the need to use many styling products. All you need to do is keep your scalp clean, eat strong, and protect your hair from the heat, and you can have shiny, glossy hair for all events. If you have short locks, we bring you some Bollywood inspiration to style your short haircut like a pro.
Short hair gives the impression of a carefree attitude. With the innumerable options and styles to flaunt hair short, more women are opting for this stylish haircut and embracing the 'short hair, don't care' motto. One of the reasons why most women cut their hair short is because it is low maintenance. However, just because you chopped off those long tresses does not mean you compromise on your hair care routine.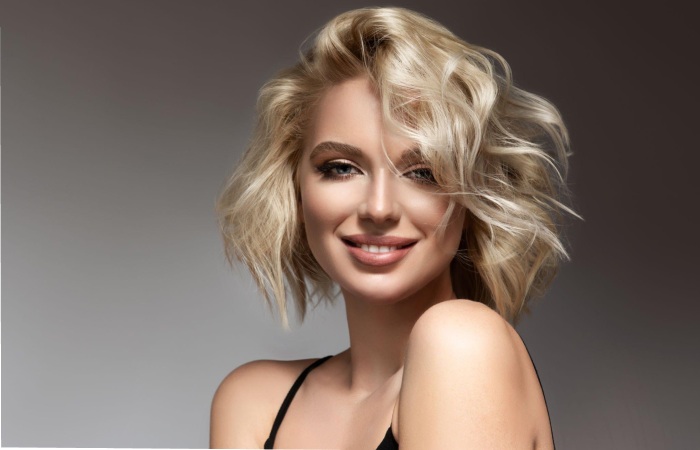 Hair Care And Styling Tips For Short Haircuts
1. Use Less Product
Short strands still need leave-in styling products but require much less product than longer strands. And while this might seem obvious, it's repeating because using various products can weigh down your short hair, causing it to look flat and greasy. Instead, opt for a smaller product and only work it through your lengths and ends you can always add more as needed.
2. Sleep On A Silk Or Satin Pillow
Opt for a silk pillowcase to preserve your short strands while you sleep. A silk pillowcase helps to create a smooth and slippery surface for your hair with less friction and tugging. Adding a silk pillowcase to your nighttime routine will help preserve your style as you sleep and help your hair retain moisture, leading to less breakage.
3. Use A Deep Conditioning Treatment
While your shorter strands may feel healthier, that doesn't mean they require less care. When your mane could use extra attention, swap out your daily conditioner for a treatment mask like the L'Oréal Paris EverPure Sulfate-Free Signature Masque Color Care Hair Mask. This mask nourishes hair, intensely hydrates, and enhances shine for all hair types, especially color-treated hair.
4. Keep Up With Routine Trims
While trips to the salon are necessary to keep your short strands looking their best, there is a way to give your ends a trim between salon visits and keep your hair healthy at home. Hair sifting is a method of trimming dead ends and the bits of hair that are split, overly dry, or otherwise damaged. This small trim not only improves your mane's overall appearance but can help make your short hair more manageable.
5. Refresh And Add Volume With Dry Shampoo
On days when your roots are feeling extra oily, refresh them with a tinted dry shampoo, like the L'Oréal Paris EverPure Sulfate-Free Tinted Dry Shampoo for Blonde Hair or the L'Oréal Paris Everpure Sulfate Free Tinted Dry Shampoo for Brown Hair. Farm the can six to eight inches away from your hair, spritz this tinted dry shampoo onto your roots, massage, and brush through. The formula will instantly absorb excess oil, add volume to the roots, and camouflage grays or roots needing a touch-up.
Cute Short Hairstyles That Don't Require Much Styling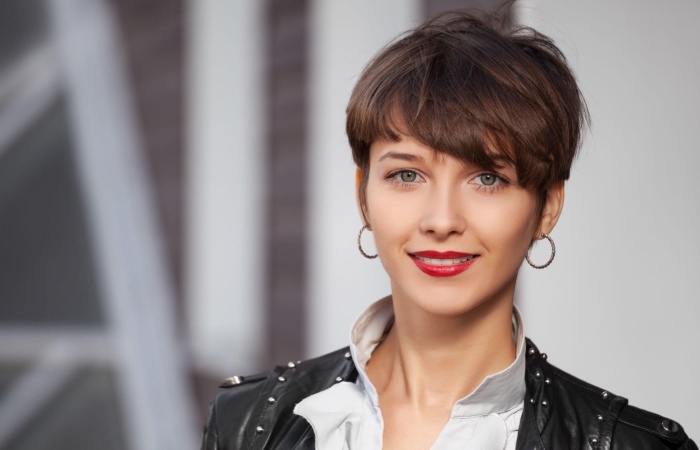 Textured Pixie Cut
According to Medchill, embracing your natural texture with a curly or wavy, textured pixie cut is a great haircut that requires little to no styling. You can wear it slicked back, apply a volumizing product, and blast it with a blow dryer for added height.
Bob
It is an effortless style for someone with super straight hair. "I love adding a row of Covet & Mane hand-tied extensions to my clients who have bobs to make their ends extra blunt and add additional volume and fullness around the front of the face," explains Medchill. "Hand-tied extensions are great for effortless styling because they hold and maintain a style longer than natural hair typically."
Blunt Bob
It requires simply getting it dry and then quickly flat ironing or letting it be wavy. "Either look is very chic and very now," explains Cucinello.
Super Short Pixie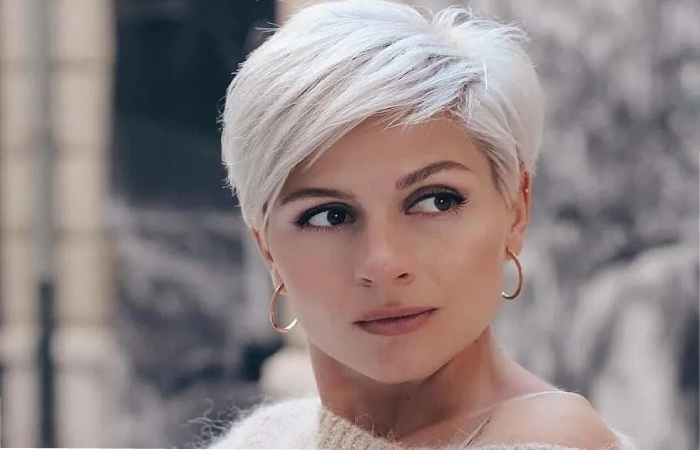 A super short pixie cut is great for someone who doesn't want to style their hair at all. "It offers the perfect, effortless bedhead look and requires no effort to style," explains Medchill. The super short pixie cut is the ultimate jump-out-of-bed-and-go haircut.
Advantages of Having a Short Haircut
When you get a short haircut, you opt for one of the most low-maintenance hairstyles. You might not be aware of many great things about rocking a short haircut.
1. You'll Spend Less Time in the Shower
The amount of time we spend in the Shower is unreal some days. Shaving everything feels like a marathon! Washing waist-length hair is quite a task too. Once you have short hair, you'll instantly notice how much quicker your showers are.
2. Short Hair Has More Volume
I have naturally thick hair. When it's long, it instantly appears thinner than it is due to the weight of my hair. The longer your hair is, the more weight there is that is preventing your hair from having a natural bounce. Once you have short hair, you instantly have more volume.
3. Less Shedding
One thing that everyone in my house seemed to appreciate was that I was no longer shedding. We used to find hairs everywhere. There was even one in the baby's diaper once! I had no clue how they made it everywhere in the house. Shedding was never an issue when I had short hair.
4. Fewer Tangles
Long hair gets tangled all day long. The longer your hair is, the longer it takes to brush. Short hair, on the other hand, is easy to run a brush through in the morning. It instantly looks better as the day goes on instead of worse and takes minutes off your morning routine.
5. Short Haircuts Are Easier to Style and Dye
Long hair is more difficult to manage. Short haircuts, by nature, are instantly easier to style. It is because you have less hair to work with. You'll notice the same thing when you dye your hair. It doesn't take as long, and it's a lot cheaper!
6. Short Hair Looks More Stylish
Everyone seems to have long hair, but unless it's styled daily, it looks the same on everyone. Short hair can make you stand out, instantly making you look trendy. You don't have to do anything to your short hair to get this effect.
Conclusion
Short haircuts are an excellent option for women of all ages and face shapes. They are low-maintenance, versatile, and can be styled in various ways. If you are thinking about getting a short haircut, I recommend doing your research to find a style that flatters your face shape and hair type. It would help to consider your lifestyle and how much time you have to spend styling your hair.