Skincare is for everyone regardless of their gender — which means that everyone should have a skincare routine! Whether you're trying to assemble a simple skincare routine for yourself, or trying to get a skeptical partner on the skincare train, you've come to the right place. Here are the steps you need to follow to put together a gender neutral skincare routine for both you and your partner:
Makeup Remover
Even if you don't wear cosmetics, you will benefit from using a makeup remover at night in order to remove sunscreen, dirt, and impurities. Cleansing balms and cleansing oils are effective at removing water-resistant sunscreen and makeup while still nourishing skin. Meanwhile, micellar water is a good choice for those who don't wear cosmetics and just want to get the sweat off their face before using their cleanser. You can also use makeup wipes in a pinch, but these can leave residue behind on your face and also create a lot of waste, so they're not the most eco-friendly choice if you're trying to make your partner's skincare routine more sustainable.
Cleanser
Face cleansers get rid of makeup remover as well as any bacteria, dirt, sweat, and other impurities, ensuring that your other skincare products can get right to work as soon as you apply them. You can cleanse your face both morning and night, or just do it at night if your skin tends to get dry. Oily skin types usually enjoy using a gel or foaming cleansing, which helps to wash away excess oil and clear out pores. Meanwhile, dry skin types tend to prefer cream or milk cleansers, which cleanse their skin without stripping. Normal and combination skin types often like to switch between the two depending on the season. Know that some cleansers include ingredients that offer additional benefits, such as exfoliating or soothing, so be sure to read the label carefully before you buy one for your or your partner.
Toner
A toner is an optional step to add to your skincare routine, but some people like to incorporate one into their daily regimen. Toners have a watery, liquid consistency that soaks into the skin and dries down almost instantly, making them a great choice for hot summer days and oily skin types. Toners come in many different varieties, from brightening to hydrating to exfoliating to soothing, so think about what benefits you might be missing in your skincare routine and then select a toner to fill in the gaps.
Treatment Serums
If your or your partner are looking to improve the appearance of your skin, treatment serums are a must. These powerful skincare products are packed full of active ingredients like niacinamide, peptides, lactic acid, and more to deliver results over time. Try a brightening serum in the morning for antioxidant benefits or a retinol at night to promote skin cell turnover. We recommend only using one active treatment serum per skincare routine to avoid irritating your face, but hydrating or brightening serums can be layered as needed!
Moisturizer
Face moisturizers help your skin stay supple and soft by preventing water loss and restoring the skin's natural oils. They also help to "seal" in your other skincare products and help to prevent them from rubbing off over the course of the day or night. Dry skin types typically prefer a heavier cream moisturizer that soothes their skin, while oily skin types prefer a lightweight gel cream that soaks in faster. Normal and combination skin types often like a midweight lotion that works for both their dry and oily skin patches.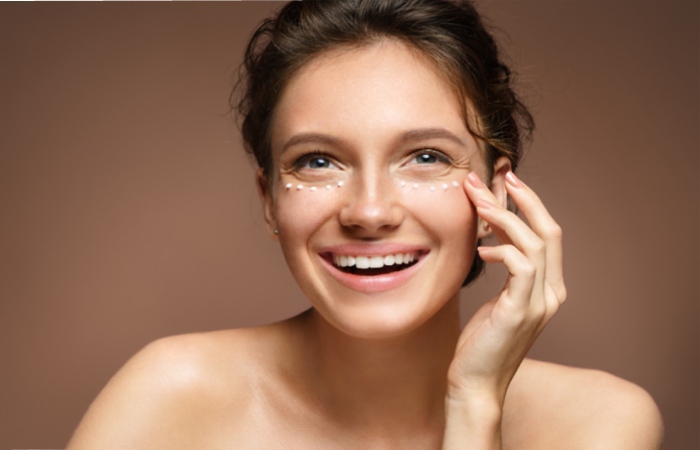 Eye Cream
Eye creams are another optional part of any gender neutral skincare routine. While you can just apply your regular moisturizer to the area, eye creams offer extra hydration that protects the delicate skin and helps to minimize fine lines. Eye creams are also formulated specifically for the eye area, ensuring that powerful ingredients like vitamin C and retinol won't irritate your skin or eyes. If regular moisturizers and serums are too strong for your eye area, then consider getting an eye cream to see if that helps.
Sunscreen
Both you and your partner should be wearing sunscreen everyday, even if you spend most of your time indoors (windows aren't that great at blocking harmful UV rays!). Choose a sunscreen with at least an SPF 30, and reapply it every two hours if you are outdoors. Apply the sunscreen as the last step in your morning skincare routine, directly after your moisturizer. You can also get sunscreens that offer moisturizing benefits so that you can combine these final two steps if you are looking to simplify things.
Face Oil
Face oils are also optional, but they can really benefit people with dry skin, especially in the wintertime. Facial oils help to replenish the natural oils in the skin and also create an occlusive barrier that prevents water loss. You can mix a couple drops into your moisturizer, or apply a layer of facial oil directly over your moisturizer. We recommend only using a face oil at night since the oil can break down sunscreen and reduce its UV protection.
Lip Mask
If you or your partner wake up with dry, parched, flaky lips, a lip mask can provide the soothing moisture that you need. Lip masks create an occlusive barrier to prevent water loss while you sleep, helping your lips to stay hydrated. They also include soothing, hydrating ingredients to help nourish dry, cracked lips and encourage the healing process while you catch some zzz's.
A Skincare Routine for You and Your Partner
Have you gotten your partner into skincare, or are you just now trying to pique their interest? If you've helped your partner put together a skincare routine, what was that experience like? Let us know in the comments below!