Introduction
A choker is a type or style of necklace close to the skin. Unlike your average necklace, a choker doesn't "hang" over the upper chest. As the image above shows, a choker wraps fur around the neck. Like the one above, some chokers leave little room to breathe, and some hug the neck with a firm grip. Regardless of how loose or tight the necklace is, as long as the shape at the front looks like a semicircle around your neck instead of a U or V shape, it's a choker. Although choker pendants are standard, most collars only come with a chain and do not include a charm. Hopefully, after this explanation, you will have a clear idea of what a choker is and remain able to tell the difference between a regular necklace and a choker.
What is Choker Necklace?
The choker necklace is a fitted necklace worn around the neck. Chokers can be made from various materials, such as velvet, plastic, pearls, latex, leather, and metal, such as silver, gold, or platinum. They can be decorated in various ways, such as sequins, studs, or pendants.
Choker necklaces date back thousands of years to the world's earliest civilizations, the Sumerian Empire in Mesopotamia and ancient Egypt. In both ancient worlds, women wore chokers, often combined with other necklaces, for the same reason they wore all jewelry: to protect and give them strength. It was especially true of gold jewelry, which the ancients associated with the sun, and lapis lazuli, which the Egyptians associated with the life-giving powers of the Nile.
Gold Choker Necklace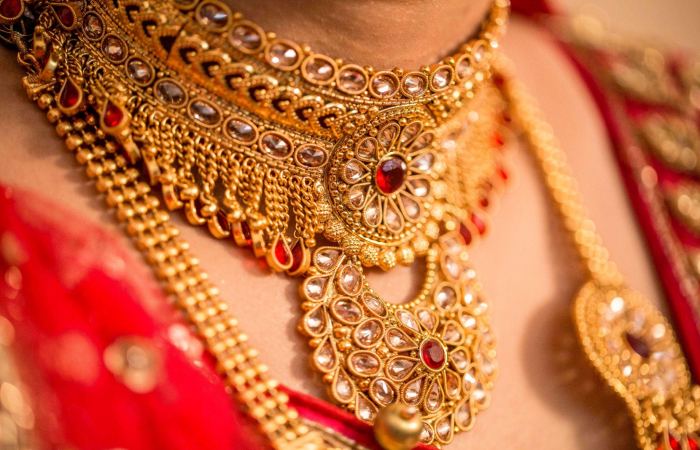 Gold choker necklace is not just a famous piece of jewelry in the west, but it has been a traditional style across India for centuries. From the royalties wearing semi-precious stones embedded designs of gold choker necklace to a simple solid metal choker style worn by the local women daily, this style of the necklace has been in the Indian jewelry traditions since always.
Amidst thousands of gold choker necklace designs available in the market, we have shortlisted the ones that are absolute stunners and will make a bride-to-be look more enchanting and beautiful on her wedding eve. These designs come in a range of simplistic to grand, giving different style options for every bride-to-be's preferences. Take a look!
Filigree Gold Choker Necklace
The exciting factor of the Jaalidaar or Filigree gold choker necklace is that the design looks heavy in appearance. Still, it uses less metal to create the invention than regular solid gold jewelry might require. Filigree gold choker necklace is best worn in pure gold form, but if needed, they can be embellished with rubies and pearls depending on the wedding trousseau.
Antique Gold Necklace
The beauty of any antique gold necklace is that it is a timeless piece of jewelry that can be worn for numerous occasions. The simplicity of the antique gold necklace makes it a perfect option to be worn with a regular party wear saree post-marriage too!
Pearl Choker Necklace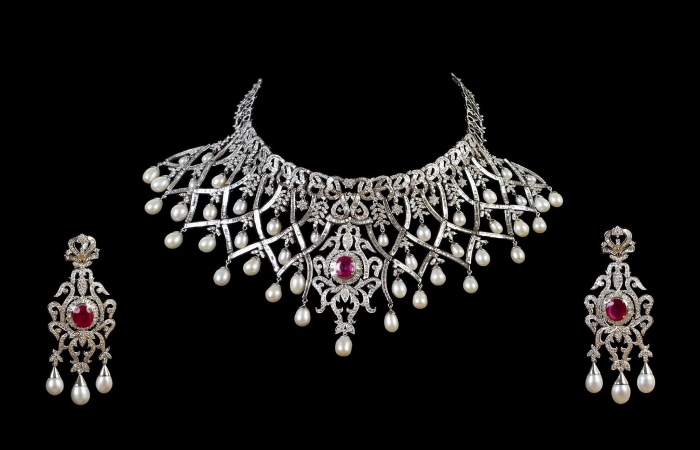 For those who don't like to experiment with different styles of pearls but still want to play it safe and on-trend, there's no better way to do it than with the modern and elegant pearl choker necklace. It is a statement piece and comes in many new versions, not explicitly limited to just the classic pearl necklace style. These necklaces are commanding and alluring, with vast and numerous pearls, providing a modern look.
There are many different ways to combine pearls today. As fashion changes and changes depending on the influences of other trends, the options remain very varied and colorful. If pearls are your choice of jewelry, then you will achieve a striking and elevated look. It doesn't matter if it's for work or a night out, and pearls are great as everyday jewelry.
Silver Choker Necklace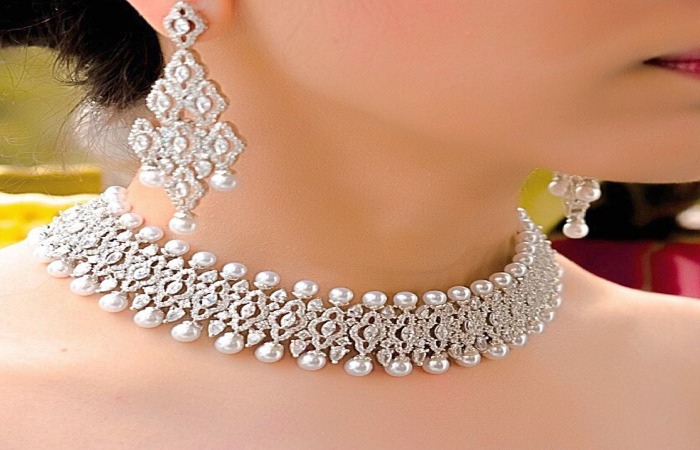 We love how choker necklaces fall perfectly on the neck to give a bold and chic look. Our Anay Antique Silver Polish Choker Necklace Set takes notes from the classic jewelry and captures beauty in filigree aesthetics combined with playful ghungroos. The necklace features intricate floral details with ghungroo making it grand and dramatic. It comes with matching earrings that will complete your look. Style this up with your favorite sarees or even your lehengas. We are sure this necklace set will be the talk of the event!
Chokers are elegant and bold at the same time. They look just perfect as they add a little glamour while not looking significantly over the top. This choker has been crafted in 925 sterling silver and is perfectly detailed. The collar starts with beautiful square-shaped motifs embossed and engraved with a hammer to give it an antique look. Every piece of Motif is connected with a black string to link systematically from top to bottom. Both ends of the motif pendant are bound with a black and red line to give it a choker look. This choker can be adjustable by setting the string.
Diamond Choker Necklace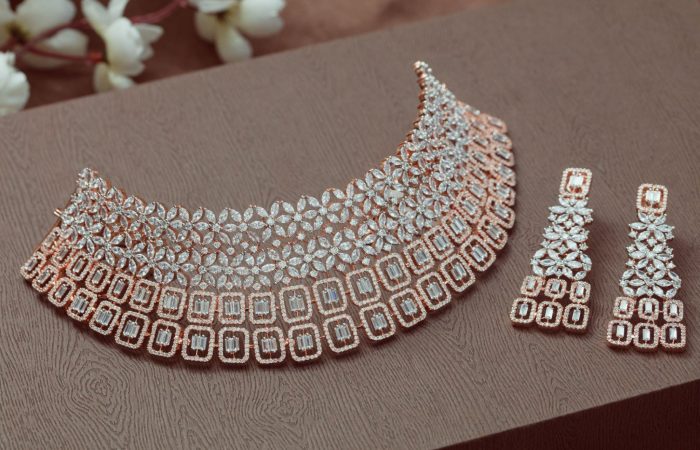 An evergreen staple in our jewelry box, diamond choker necklaces will never go out of style. It is a piece of jewelry that will never lose its elegance and can be passed down for generations as an heirloom. Chokers as a piece of jewelry dated back to the 18th century and were worn by queens to highlight their necklines. Choker necklaces have played a vital role in different eras. From becoming a trend with elite women to sealing a permanent position in the jewelry cases of royals, the dainty and svelte choker has proven its versatility.
Chokers are designed in different ways so that every person with a distinct personality can style themselves with them. Collars are back in trend, and a diamond choker set is one of the most appealing pieces as it instantly accentuates your outfit and personality. Today, most women like to go bare on their necks, so a diamond choker set is a clean slate to shine. Styling the evergreen diamond chokers can be easy, and you can create an aura of elegance with a few ideas.
Traditional Choker Necklace Online
You can never go incorrect with a choker necklace! Indian-style choker necklaces have always been a staple in bridal parties and formal events, and why not? Beautifully crafted and studded with colorful gemstones, they go perfectly with ethnic wear!
Versatile, eye-catching, and evoking 90s nostalgia – a choker necklace is the kind of fashion accessory that can elevate even the simplest of traditional outfits! So, let's shine bright and walk through the varieties of Indian-style choker necklaces that will make you live in their adornment. Please take it to formal events or cocktail parties with friends!
Flaunt It All in A Gilded Gold Choker Necklace
This choker style looked opulent when encrusted with jewels and highlighted with diamonds. A stunning wedding option, the suitable gold choker necklace designs make any lehenga set look regal and striking. Get your glow-up with a wedding necklace in gilt gold!
Styling tip – Pair your gold choker necklace with a monochromatic kurta set in solid neutral colors like cream, beige or black for your next Diwali party or Mehndi ceremony.
Shine Bright in A Glittering Diamond Choker Necklace
Flaunt some serious star power in this style of choker necklace traditional extravaganza! A diamond choker necklace is a gorgeous pairing option with velvet dupattas, dreamy chiffon sarees, and heavy silk lehengas.
Oozing magnificence and luxury, this version of Indian-style choker necklaces will turn every head as you strut about in swan-necked majesty.
Choker Gold Necklace Designs With Price
Brass, Pearls Golden Gold Chocker Necklace Set, Box
Material: Brass, Pearls
Color: Golden
Packaging Type: Box
Brand: R-Chie Creations
Country of Origin: Made in India
Set Contain: 1 Necklace + 2 Earrings
Vishesh jewels Gold Choker Necklace 22k, Company Box
Material: 22k pure gold
Color: Gold
Packaging Type: Company box
Brand: Vishesh jewels
₹ 2.55 Lakh/ Piece
Tristar Jewelry Navratna 14K Gold Pearl Choker Necklace Set, Box
Material: Gold
Color: Gold
Packaging Type: Box
Brand: Tristar Jewelry
Weight: 51 gms
₹ 1.75 Lakh/ Piece
Conclusion
The kind of necklines that Indian choker necklaces work with is on opposite ends of a spectrum-a deep or high neck. Anything in between can also be pulled off but runs the risk of not looking refined. Sweetheart necklines should be avoided to ensure that there's not much going on around the neck since the neckline is already elaborate, and working a stiff neckpiece around the same is challenging.